Rumen
Health
Technical
Guide
Leading ruminant experts have written the Rumen Health Technical Guide. This resource is free to veterinarians, nutritionists and producers, request a copy today.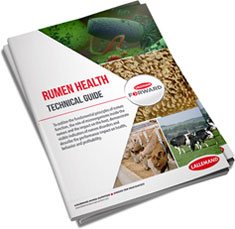 Get a copy
FibrolyticGlossaryView allFibrolytic
Capacity to hydrolyze fibers. microbial populations are vital to maximizing forage digestion.
Ruminants depend on microbial fermentation within the rumen to acquire energy from plant material.15ReferenceView allOba M. and Allen M. S. 1999.

The different fractions from plant cells walls are not entirely physically accessible and achieve various degrees of digestibilityGlossaryView allDigestibility
Capacity to be digested (difference between intake and fecal output), in % in the rumen.
To improve animal productivity, a portion of the forage diet is increasingly substituted with readily-fermentable carbohydrates. However, the supplementation of diets with readily-fermentable carbohydrates is known to depress rumen fiber degradation.16ReferenceView allMoorby J. M., Dewhurst R. J., Evans R. T., and Danelon J. L. 2006.

Additionally, the major fiber-degrading bacterial species Fibrobacter succinogenes, Ruminococcus albus and R. flavefaciens, as well as rumen fibrolyticGlossaryView allFibrolytic
Capacity to hydrolyze fibers. fungi, are particularly vulnerable to rumen pH at 5.8 or lower.
The challenge for ruminant nutritionists is to maximize a balanced nutrient intake and availability, digestion and ultimately the efficiency of this process to convert to milk, meat or wool.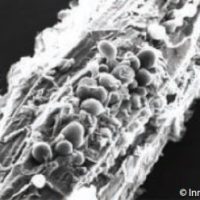 Digestion of fiber in the rumen can depend on carbohydrate type
Fiber degradation depends on rumen pH

指標とリスクの特徴
主要因
動物の生産成績
- 肉牛において日増体量と飼料効率が低下するのは、ルーメン発酵の停滞に原因がある可能性があります。
- 泌乳牛において乳量と乳脂肪、乳脂肪/乳タンパク質比率が低下するのは、ルーメン発酵の停滞に原因がある可能性があります。17ReferenceView allBritt J. S., Thomas R. C., Speer N. C., and Hall M. B. 2003.
18ReferenceView allAllen M. S. 1997.
19ReferenceView allSauvant D. and Peyraud J. L. 2010.

下痢 & 未消化穀物

ルーメン効率が悪く、加工済みの穀物が糞中に未消化の状態で見られる時には、飼料のバランスが悪いか飼料の消化率が低いために、飼料の通過速度が速くなっている可能性があります。20ReferenceView allHall M. B. 2002.

ボディコンディション
痩せている牛は飼料の消化率が低く飼料摂取量が低下しており、ルーメン効率が低いと考えられます。22ReferenceView allZaaijer D. and Noordhuizen J. P. T. M. 2003.
23ReferenceView allHeinrichs A.J.
24ReferenceView allButler W.R. and Smith R. D. 1989.

暑熱ストレス
暑熱ストレス (気温と湿度)が増加すると、下に記載する理由から、アシドーシスと飼料消化率低下のリスクが高まります。
> 採食行動に負の影響が見られます: 明け方や夕方の涼しい時間に採食することを好みます。
> 乾物摂取量が低下します: 牛は易発酵性炭水化物を選び食いし、粗飼料の摂取割合を低下させます。
> 口を開けた呼吸や流涎によって唾液をロスし、ルーメンに流入するバッファーの量を減少させます。31ReferenceView allBurgos Zimbelman Rosemarie and Collier Robert J. 2011.